PBL South Asia student cases bring together multidisciplinary student teams from the local and international partner universities to co-create proposals focusing on sustainability, innovation and technology for case beneficiaries. The first student cases are exploratory to familiarize the Nepalese and Bhutanese partners with the facilitation of student cases involving external partners and societal challenges, and to exchange information on the methods used by other partner universities.
PBL South Asia student cases are offered 1-2 times annually. To get involved as a student, faculty member or a potential client, contact our team – we look forward to hearing from you.
---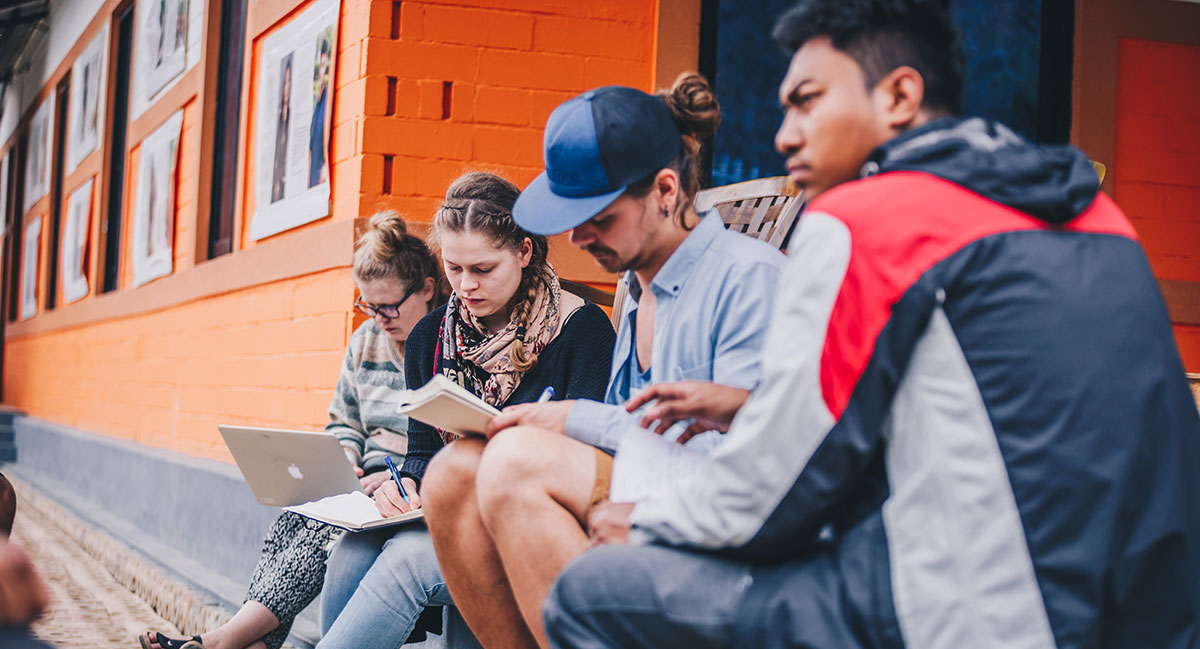 Sustainable community reconstruction after disaster (post 2015 earthquake) 2018-2019
Client: International Centre for Integrated Mountain Development (ICIMOD) and Dhungentar Community
Challenge: Students worked on two challenges; 'building disaster resilience through communal synergies' and 'entrepreneurship opportunities and challenges in post disaster community'
Team: Asian Institute of Technology and Management (AITM) and Aalto Sustainable Global Technology (SGT) team.
Proposal(s): Nepali project. Read more from the students' full reports (AITM and Aalto) as well as the Aalto team's website, Instagram and Media Release.
In Nepal, the PBL student case 2018 was organized by Asian Institute of Technology and Management (AITM) and Aalto University's Sustainable Global Technologies studio course.
The Asian Institute of Technology & Management (AITM)
The Asian Institute of Technology & Management (AITM) is a private academic institution, which offers high-quality national and international undergraduate engineering, technology and management programs in Nepal. AITM's main objective is to produce skilled and qualified graduates, with analytical skills, creative and innovative thinking, who are morally upright and socially responsible persons.
However, the current education system in Nepal is highly theoretical and classroom based (more like "Chalk and Talk"), rather than providing practical knowledge and opportunities to the students. To fulfill the institute's objective, it is trying to introduce and integrate PBL into the curricula. The institute hopes that this PBL methods will motivate the new generation of students in creative learning. Besides, the institute also believes that this new method will also help to bridge the gap between university education and the needs of the society/industry.
Sustainable Global Technologies Studio Course
SGT is a co-learning studio course for Master's and PhD students at Aalto University. During the course students form multidisciplinary teams to carry out projects linked to global development challenges. Assignments are implemented with partners from academia, industries, governmental and civil society organisations and communities in developing countries.
LEARNING OUTCOMES
Understanding the role of sustainability and technology in development Implementing challenge-based projects
Integrating different disciplines and diverse skills (technology, science, design, architecture & business)
Implementing challenge-based projects
TEACHING METHODS
Multidisciplinary and multicultural teamwork
Human-centered design and design thinking
Project management and planning with partners
Field work, expert meetings, workshops & mentoring
FINAL OUTCOME
Students design a solution based on the needs of the case partner
Short-term outputs can take many forms (a manual, technical report, evaluation, game, mobile app or other)
Long-term collaborations can lead to project partnerships or product implementation
Contact
Programme Manager
M.Sc. Matleena Muhonen
matleena.muhonen@aalto.fi