---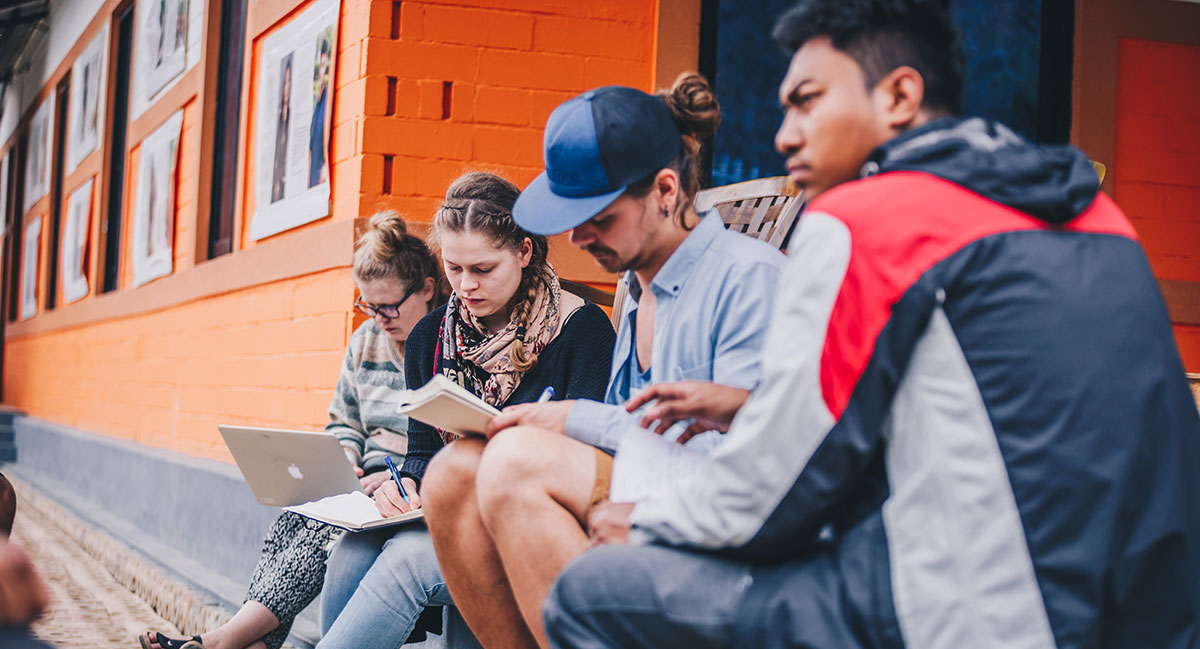 Asian Institute of Technology and Management (AITM)
During the project, AITM has carried out some 23 PBL student cases, mostly under PBL adapted "Enterprise Development Project" course, offered under Bachelors in International Hotel and Tourism Management (BHM) programme, affiliated to International Management Institute (IMI), Switzerland. Most recently AITM also adopted the PBL methodology in the pilot "Global Marketing Management" Course, offered under Masters in Business Administration (MBA) programme, affiliated to Birmingham City University, United Kingdom. Throughout the PBL student cases, AITM has actively collaborated with external stakeholders such as municipalities, hospitality enterprises and small-medium businesses, NGOs/INGOs etc. AITM also teamed up with international students and mentors from Aalto University in 2019 and Delft University of Technology in 2022 for conducting student cases.
Sustainable community reconstruction post-disaster earthquake 2015 (2018-2019)was one of the pilot student cases conducted by AITM jointly with Aalto University. In this PBL case, AITM and Sustainable Global Technologies (SGT) studio course at Aalto University partnered to jointly develop PBL methods teaching related to humanitarian interventions and to support participatory approaches to reconstruction.
The focus of the project was on the theme of reconstructing communities after the 2015 Nepal earthquake. The fieldwork took place in Kathmandu and Dhungentar in 2019 and was executed in collaboration with local students from AITM, the International Centre for Integrated Mountain Development (ICIMOD), and the Dhungentar Community. Students from AITM and Aalto University jointly carried out the PBL student case. Students worked on two challenges: "building disaster resilience through communal synergies" and "entrepreneurship opportunities and challenges in a post-disaster community". Read more from the students' full reports (AITM and Aalto) as well as the Aalto team's website, Instagram and Media Release.
More information about the PBL adapted courses and cases at AITM can be found here.
Kathmandu University (KU)
Under the project, KU has adopted new PBL based curriculum for courses such as "Illumination Engineering", "Advanced Illumination Engineering", and "Acoustic Engineering and Noise Reduction" at undergraduate level; and "RF and Microwave Engineering" course at graduate level, hosted by Department of Electrical and Electronics Engineering under School of Engineering. Several local PBL student cases have been conducted under these courses, in addition to a couple of pilot PBL student projects. Through the adopted courses and pilot cases, KU has been successful in verifying and adopting PBL methodology relevant to the local curriculum and context, with a mix of various engagement methods (lectures, case studies, simulations, field visits, reflections, research, publications etc.) to facilitate student learning, skills and competence development through real world cases.
One of the recent student cases titled "Study of the impact of lighting intervention in historic and touristic cities of Nepal (2022)" jointly offered under the courses "Illumination Engineering" and "Advanced Illumination Engineering" explored current challenges of modern lighting from cultural, architectural and economical points of view, at selected heritage and natural sites in major tourist destination cities. Read more about the case from the students' Case Snapshot, Final report and Final presentation.
For more information read the PBL adapted courses and cases at KU.
Nepal Engineering College (NEC)
At NEC, PBL methodology has been adopted across varieties of modules as in core course ("Integrated Digital Electronics"), elective course ("Artificial Neural Network") and final year projects all at Bachelors level in Electronics and Communication Engineering degree programme. Various local PBL student cases have been conducted, majorly under first piloted course "Integrated Digital Electronics" with various local technology businesses and institutions, including Nepal Innovation Centre, as case owners and beneficiaries. In addition, NEC has been also active in developing and exchanging co-mentoring practices on PBL student cases in Nepal with Aalto University, IIT Bombay, Kaunas Technical University and Delft University of Technology respectively.
Currently, an integrated PBL student case, under final year project case, with student teams working on "IoT based smart hydroponics and fertiliser doser system (2022)" are being conducted to investigate challenges and propose efficient solutions for urban farming solutions in rapidly growing metropolitan areas including the capital area itself.
More information about the PBL adapted courses and cases at NEC can be found here.
Sagarmatha Engineering College (SEC)
The project has been successful at SEC in implementing PBL based methods and adapting "Final year project I & II" courses, offered in Bachelor's level under Civil Engineering, Electronics and Information Engineering, and Computer Engineering degree programmes respectively. SEC is implementing internal PBL mentoring practices and processes at all departments at the institution and has been active in PBL education promotion, dissemination and outreach among relevant stakeholders in Nepal. In addition, SEC hosted international multidisciplinary students and mentors from Aalto University in 2022 for two separate joint student cases.
One of the joint student cases, on "Popularising earthquake resistant building codes in the construction sector in Nepal (2022)", built upon previous PBL South Asia case on reconstruction after the earthquake, explored themes of information and service management in residential building construction both in urban and rural Nepal. The joint teams were formed of International Design Business Management (IDBM) Industry Project Course at Aalto University and Final year project course in Civil Engineering at SEC. Read more from the students' full final report and guide.
More information about the PBL adapted courses and cases at SEC can be found here.